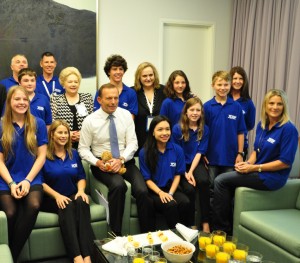 Susan Alberti was pleased to be a part of the Kids In The House delegation in late November which took 100 young Australian with Type 1 diabetes to Canberra to highlight the chronic disease to the Federal Parliament.
As part of the delegation, Sue addressed a moving lunchtime presentation by JDRF, met with delegates and politicians, including the Leader of the Opposition Tony Abbott and Health Minister Tanya Plibersek.
Sue said she was thrilled the Coalition had pledged $35m in funding for JDRF's Clinical Research Network as part of the Kids In The House event.
"I was delighted to personally meet and thank Tony for his commitment on behalf of a future Coalition Government," Sue Alberti said.
"The kids were just so grateful to him for listening to their stories and making a genuine election commitment to help them."
"I will continue to encourage the Prime Minister, Health Minister and other members of the Government to make a similar pledge, so we can have a uniquely bipartisan approach to tackling this debilitating disease."